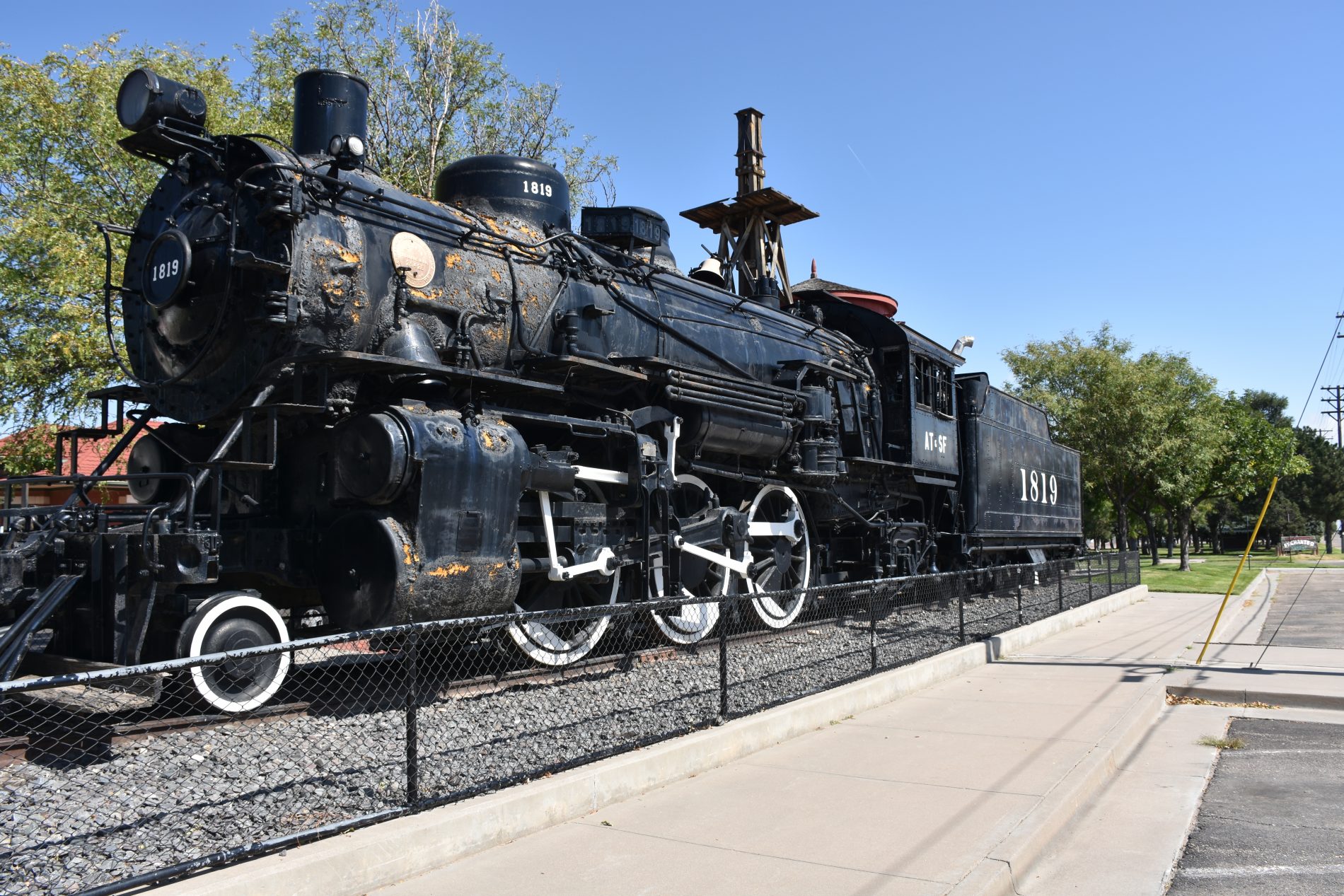 Santa Fe "Prairie" Engine 1819
In the 19th century, life throughout southeastern Colorado centered on the railroad. Not only did railroads bring people west, but their powerful steam engines were also the wonders of the industrial age and a means to booming economies.
The 1819 "Prairie" Engine that sits in front of the Colorado Welcome Center was forged by Philadelphia-based Baldwin Locomotive Works for the Atchison, Topeka & Santa Fe Railway. Built at the height of locomotive production in the U.S., this engine was constructed to carry freight across the plains.
From the American Engineer and Railroad Journal, November 1906
"The Baldwin Locomotive Works is delivering to the Atchison, Topeka & Santa Fe Railway an order of very large and powerful Prairie-type locomotives for fast freight services.
"The Prairie type locomotive for fast freight service, which incidentally includes low-speed heavy passenger service, is becoming quite common in certain sections on Western railroads. During the past few months, there has been such a design for the Chicago, Burlington and Quincy Railway, where the type has been in very general use for over five years.
"This one for the Santa Fe, however, is larger and more powerful than either of the previous ones, and it also has the further advantage of being a balanced compound."
The 1819 cost $23,239.51 when brand new. According to the Atchison, Topeka & Santa Fe Railroad, Engine 1819 retired in October 1953 after 47 years of service. It traveled a total of 916,626 miles during its tenure and handled freight, passengers, and switch duties in the "Middle Division" of Missouri, Kansas, and Colorado.
The 1819 "Prairie" Engine was donated to the City of Lamar in 1956. In February, 1956, it was pulled down 4th Street using portable track sections to a location next to the Carnegie Library (Now the Lamar City Complex).
When Lamar was chosen as a location for a Colorado Welcome Center and the original train depot was refurbished, it was only fitting that Engine 1819 should live by the depot. Once again, it was pulled down 4th Street on portable track sections in February 1991.
The 1819 "Prairie" Engine serves as a historical landmark, tourist attraction, and must-see for any railroad enthusiast.