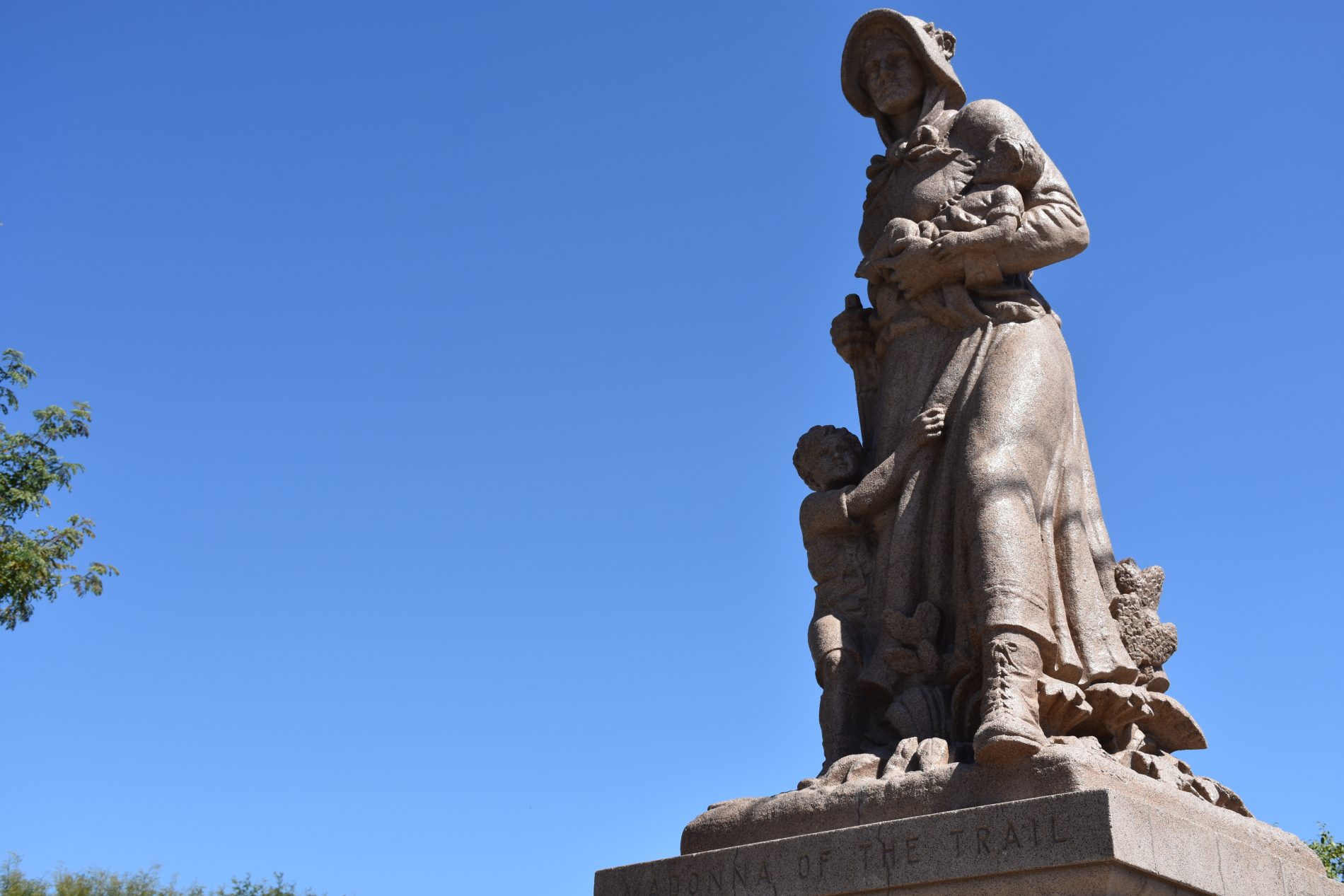 Madonna of the Trail Monument
The Madonna of the Trail Monument in Lamar is just one of 12 similar monuments nationwide celebrating the pioneer mothers of the covered wagon days on the Santa Fe Trail.
The monument was dedicated on September 24, 1928 and remains a symbol of courage and faith of the women whose strength and love aided so greatly in conquering the wilderness and establishing permanent homes.
The idea for these monuments began in 1909 when a group of Missouri women voiced their desire to mark the Missouri portion of the Santa Fe Trail. In 1912, Republican A. R. Borland of Missouri introduced a resolution in Congress formally naming the series of trails followed by our forefathers, "National Old Trails Road."
Shortly afterwards, the National Society of Daughters of the American Revolution commissioned and installed one Madonna of the Trail Monument in each of the 12 states along the National Old Trails Road.
The twelve locations of the Madonna of the Trail Monuments are:
Bethesda, Maryland
Beallsville, Pennsylvania
Wheeling, West Virginia
Springfield, Ohio
Richmond, Indiana
Vandalia, Illinois
Lexington, Missouri
Council Grove, Kansas
Lamar, Colorado
Albuquerque, New Mexico
Springerville, Arizona
Upland, California
The 12-foot tall, 5-ton monuments were created by German-born August Leimbach and casted of crushed granite, stone, marble, cement, and lead. The granite, native to Missouri, produced a pinkish cast, giving the monuments a life-like look.
The inscriptions on the Lamar Madonna of the Trail read:
West face:
Madonna of the Trail, N.S.D.A.R., Memorial to the pioneer mothers of the covered wagon days
South face:
A place of historical lore noted for Indian lodges, shelter from storm and heat, bivouac for expeditions, scene of many councils.
East face:
The National Old Trail Road
North Face:
In commemoration of "Big Timbers," extending eastward and westward along the Arkansas River approximately twenty miles and of Bent's New Fort, later Fort Wise, 1852-1866.