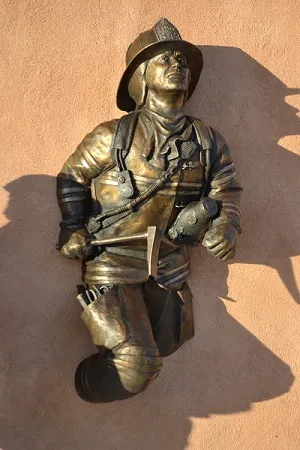 Sculpture Honoring 9/11 First Responders
A life-sized bronze sculpture memorializing 9/11 first responders will be unveiled in Lamar at the Tri-State 9/11 Memorial Site on Sept. 7, the Tri-State 9/11 Tribute Foundation announced in a news release. The location of the statue will be just outside of the Big Timbers Museum.
Created by religious and military artist Scott Stearman, who has created art across the United States, the piece entitled, "Running Towards Danger," is molded in a "Field of Dreams Effect," with part of the firefighter embedded in the memorial wall. The uniform and gear of the firefighter are authentic replicas of those worn by the FDNY on Sept. 11, 2001. The firefighter is surveying the chaos of 9/11 and has a look of determination and awe.
In his mission statement, Stearman said, "I endeavor to create sculptures that connect with the hearts of people, reflecting the beauty and dignity of their lives, their faith, their mission, and their sacrifice."
The public is welcome to attend the unveiling of the statue on Sept. 7. The event begins at 6 p.m. The unveiling of the statue coincides with the annual 9/11 Tribute, which is put on by the Tri-State 9/11 Tribute Foundation.
The statue will be unveiled just two days before this year's event, which will be Sept. 9. The parade for the event begins at 10 a.m. and starts at Beech Street, south on Sixth Street to Cedar St., west to Ninth Street, then south on Ninth Street to Fairgrounds.
The formal 9-11 Remembrance starts at 1 p.m. at Prowers County Fairgrounds with a special flag folding that will honor Sheriff Jim Hamilton.
By KRISTINA POST | Special to the Lamar Ledger
PUBLISHED: August 20, 2023