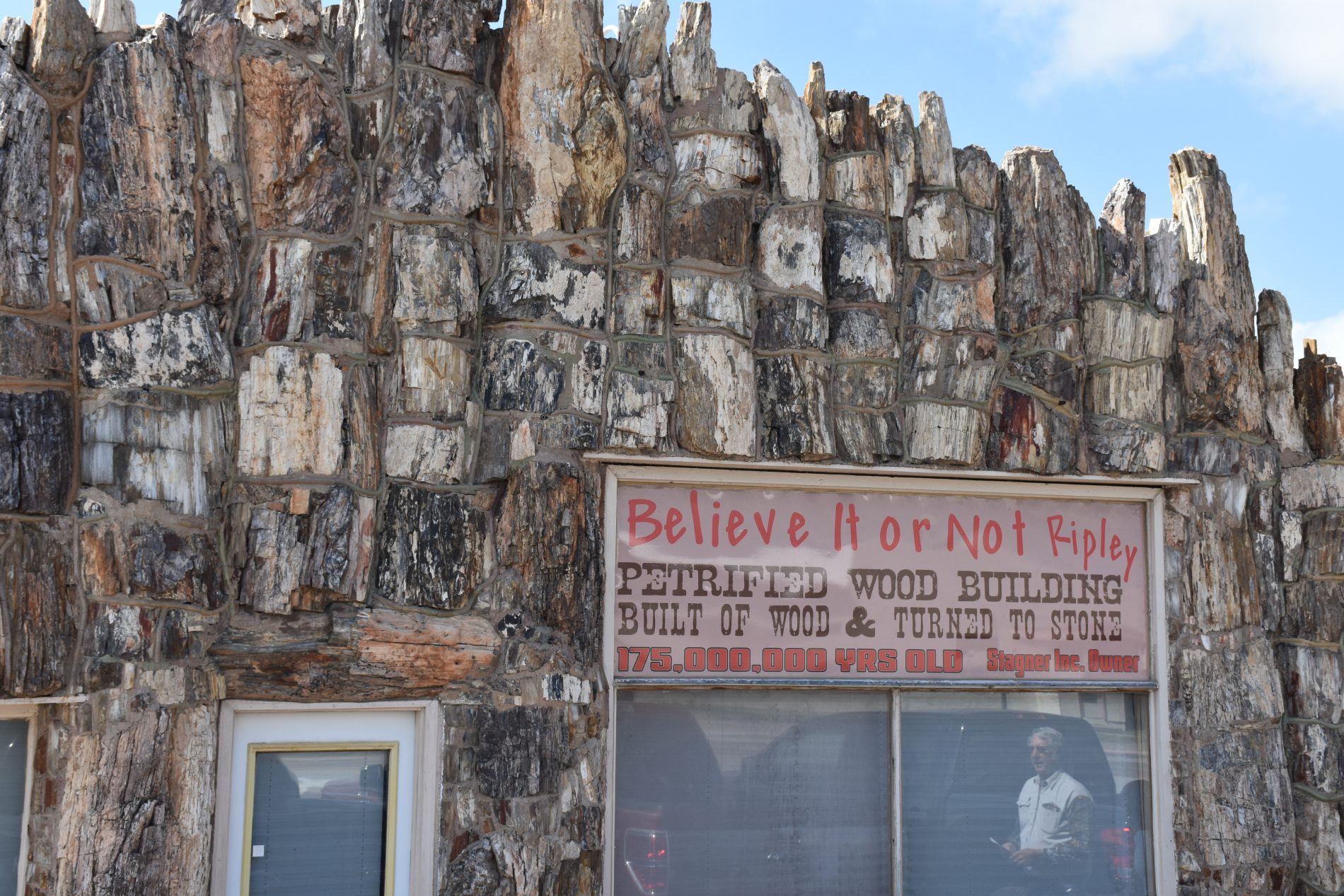 Petrified Wood Building
The Petrified Wood Building was built in 1932 by William "Bill" Brown. Constructed of petrified wood found three miles northwest of Two Buttes Mountain, it was once touted as "the oldest working gas station in the world, at over 175,000,000 years old."
Brown, a local lumber dealer, dreamed of showcasing nearby phenomena to tourists passing through southeastern Colorado, so he built the petrified wood building to do just that.
Not only is the building made entirely of petrified wood, but its doorways and entryways are also flanked by great trees nearly four feet in diameter, the largest single piece weighing 3,200 pounds. The floors are also built of petrified wood, making it the oldest hardwood floor in the world.
Three months after the gas station opened, Ripley's Believe It or Not mentioned it in a column which read, "The Petrified Wood House, Built Entirely of Wood Turned to Stone." Soon afterward, Brown hung a sign with this quote on it.
Brown owned the gas station for many years, and when he died in 1857, his interesting and unique building remained standing to carry on his quest to provide interesting phenomena in southeastern Colorado.
In 1962, the Petrified Service Station became the home of Lamar Tire Service, aka Stagner Inc., founded by James Stagner.
Originally a tire re-treading business, it has evolved into a successful, family-owned and operated automotive sales and service business.
Eventually, the petrified wood building became too small to accommodate the automotive business, and in 1974, construction of the new building was completed beside the petrified wood building.