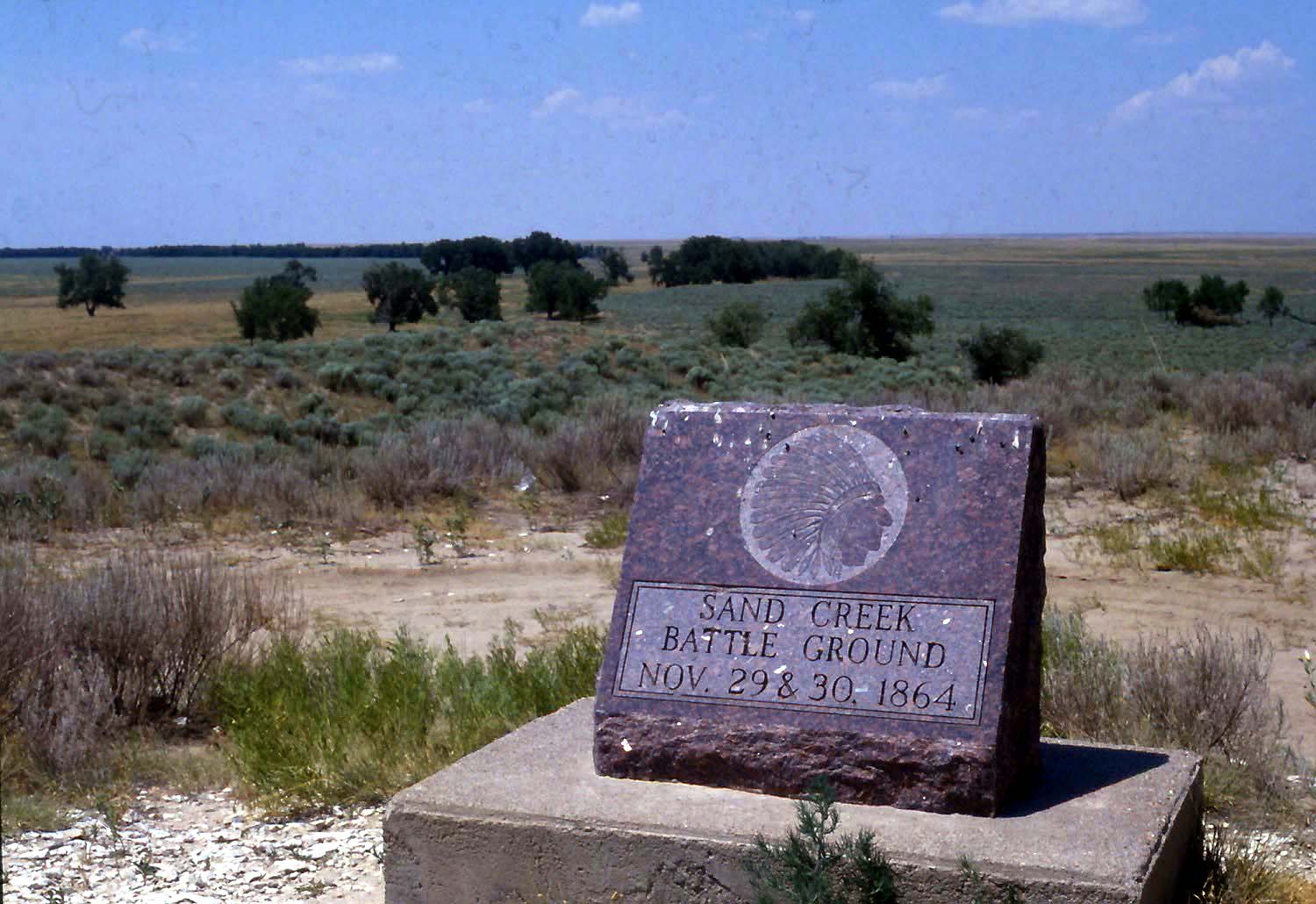 Sand Creek Massacre National Historic Site
On November 29, 1864, US Army Colonel John Chivington ordered several hundred members of the Colorado Territory militia to attack Cheyenne and Arapaho Indian villages in an area known as Sand Creek.
Despite hanging a US flag and a white Flag of Truce, 230 Indians were killed and mutilated, over two-thirds of which were women and children.
The Sand Creek Massacre was a result of mounting tensions between the Plains Indians and the white settlers moving west.
The Treaty of Fort Laramie in 1851 had given the Indians extensive territory, but the Pikes Peak gold rush in 1858 and other factors had persuaded the US to renegotiate the terms of the treaty.
In 1861, the Treaty of Fort Wise was signed by Southern Cheyenne and Arapaho chiefs. The treaty took from the Indians much of the land given to them by the earlier treaty, reducing the size of their reservation land to about 1/13th of the original amount.
Although the peace-seeking chiefs signed the treaty to ensure the safety of their people, not all of the tribes were happy with the decision, and many Indians continued to live on and hunt the land they lost.
Aware that tensions were rising between the Indians and the white settlers, Chiefs Black Kettle and White Antelope tried to establish a truce. They were advised to camp near Fort Lyon and fly a US flag and white Flag of Truce over their camp to establish themselves as friendly.
Despite these efforts, Colonel Chivington and his troops nonetheless attacked the Indian camp at Sand Creek. Although there were eye witness accounts from survivors and some soldiers, Chivington and his men were not charged for the heinous attack.
The effects of the massacre reverberated for years, profoundly unsettling the Cheyenne and Arapaho people. Several bands of their cultural traditions were essentially destroyed. The treachery of the attack damaged the credibility of remaining Chiefs like Black Kettle and encouraged the recruitment of warrior societies that declared all-out war across the plains.
While the events of Sand Creek set off a new round of conflict, they eventually helped fuel a reappraisal of the treatment or American Indians. The glaring contradiction between America's ideals and events like Sand Creek would increasingly trouble American citizens.
Emphasis gradually shifted from military, economic, and cultural subjugation to the assimilation of the American Indian into society in the 1900s. This attempt to end the Plains Indians would only partly succeed due to the resilience of the Cheyenne and Arapaho people.
Today, The Sand Creek Massacre National Historic Site offers visitors the opportunity to stand on the ground of this historical travesty and learn more from interpretive signage.
The park hosts special programs associated with the events at Sand Creek and today's Cheyenne and Arapaho. These events, including annual Spiritual Healing Runs and other activities, help to commemorate and memorialize the tragic history and legacy of the Sand Creek Massacre.
Sand Creek Massacre National Historic Site
55411 County Road West
Eads, CO 81036
719-438-5916