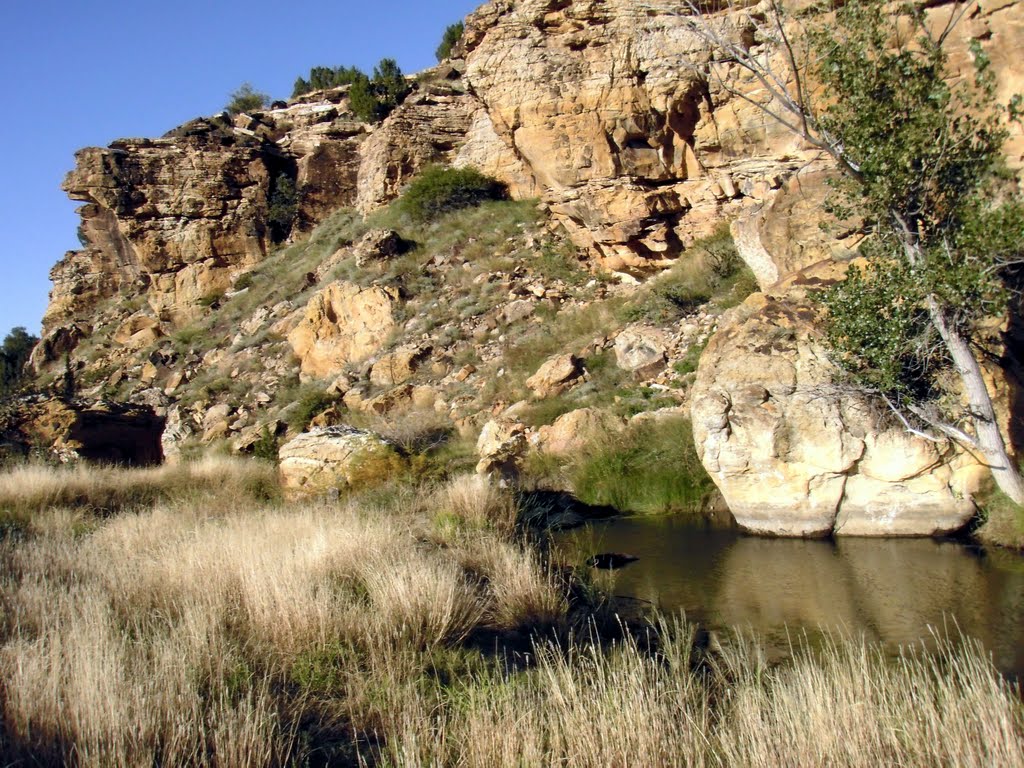 Vogel Canyon Hiking Trails
The following four hiking trails take you to the bottom of Vogel Canyon, along the top of the mesa, and through shortgrass prairie and juniper trees.
The Overlook Trail
This trail is 1-mile round-trip, handicapped accessible, and consists of a gravel walkway along the top of the canyon. It offers wonderful views of the canyon and culminates along the top of a small cliff.
The Canyon Trail
The Canyon Trail is a 1 ¾-mile round-trip trail of easy to moderate hiking. You will hike down into the canyon from the picnic areas while wondering through pinon pine and sandstone formations. Along the way, be on the lookout for the old ruins of the 1930s Westbrook settlement.
At the bottom of the canyon, you will see spur trails running up near canyon walls. Be sure to take one of these spur trails to view the Native American rock art. Near the end of the trail, you can either return on same trail you came in on or come back out on the Prairie, Mesa, and Overlook Trails.
The Mesa Trail
This trail spurs off of the Overlook Trail and wanders through the pinon pine, eventually meeting up with the Prairie Trail. This 2 ¼-mile round-trip moderate hike takes you past a spring and some old ruins. Once you meet up with the Prairie Trail, you might consider wandering the shortgrass prairie to the east and catching the Canyon Trail to get back to your car. Be sure to spend some time viewing the Native American rock art along the cliffs on the eastern edge of Canyon Trail.
The Prairie Trail
The Prairie Trail is a 3-mile round-trip trail that begins before the parking lot and picnic area. To access this trail, hike back on the road you came in on for a short distance and follow the Barlow and Sanderson Stage Road through the shortgrass prairie for the first part of the trail.
The trail veers off of the stage road and continues into the canyon. This moderate hike passes ruins of a station for the Barlow and Sanderson Stage Line and will also take you by ruins of old settlements, a rock corral, and natural springs, culminating at the base of the canyon walls. While in this area, be sure to climb the little spur trail up to the canyon walls to view the Native American rock art and take in the spectacular views. Follow the canyon trail north to return to the parking lot and picnic area.
Trail Safety
Please carry water with you. Springs water is not safe to drink
Look for cairns or stone posts to help locate trails. Please stay on trails.
Pay attention to the trail. Shortgrass prairie and rocky areas are home to rattlesnakes and cacti.