The High Plains Snow Goose Festival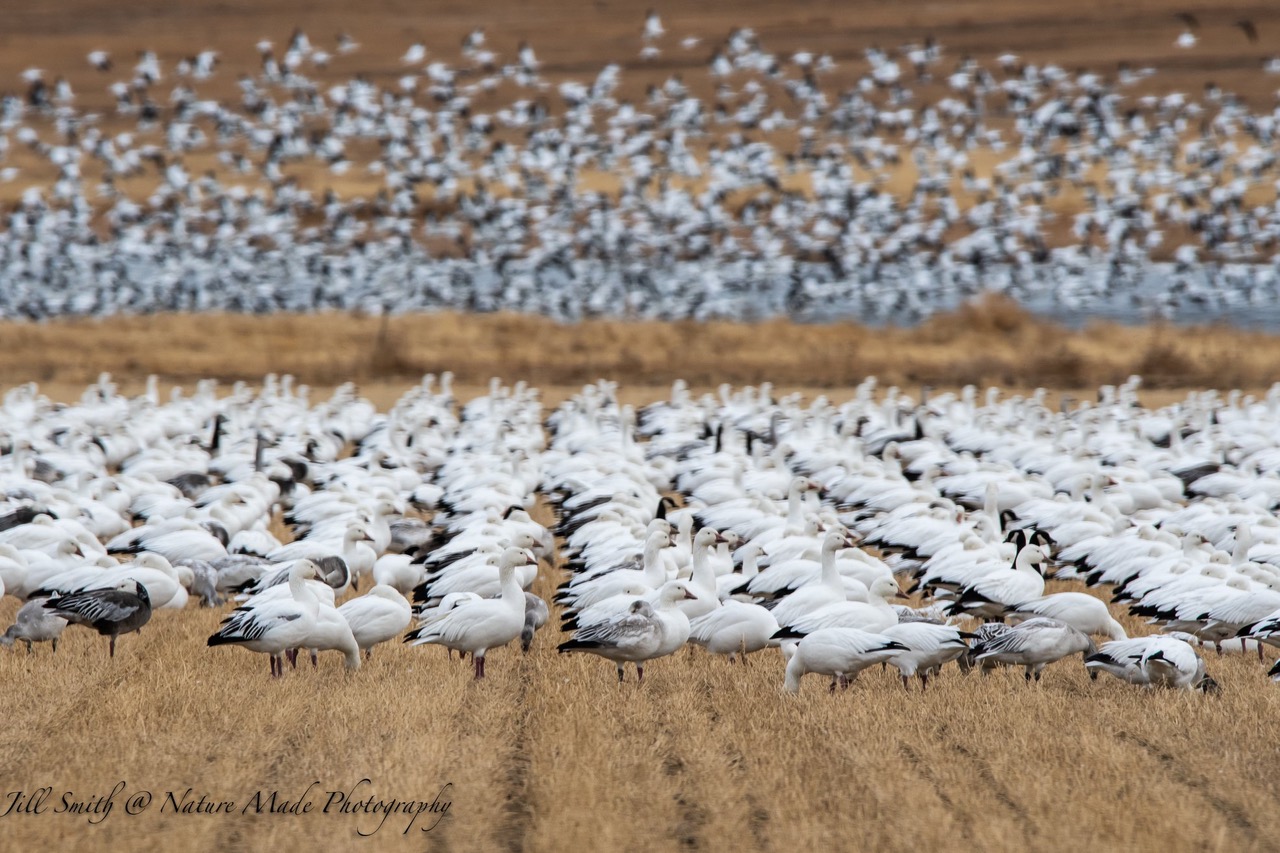 In February, when the fields and reservoirs of Southeastern Colorado turn white—not from snow but from the large white geese arriving by the thousands during their traditional migration to their winter roosts—it's time, once again, for the annual High Plains Snow Goose Festival, one of the largest birding festivals in Colorado.
Families, bird watchers, and a variety of outdoor enthusiasts come to Lamar each February to see the arctic waterfowl as they arrive via the Western Central Flyway that includes Colorado, New Mexico, and the Texas Panhandle.
Prowers County's scattered ponds, lakes, and reservoirs are waterfowl magnets, and the Snow Goose is no exception. In recent decades, their population has been exploding as they currently have a breeding population approaching 6 million, a sizable chunk of which migrate right through southeastern Colorado.
Not only are these geese beautiful to see, but the sound of tens of thousands of large white geese flapping their wings as they rise from the water is not something easily forgotten.
Event Programs
A family friendly event, the festival offers a variety of programs for both adults and children. Field trips, games, tours, and seminars will celebrate birding and the heritage of Southeastern Colorado. Whether you are a seasoned birder or an amateur wanting to learn more or just interested in the event, you'll be getting together with others to learn and explore.
Event registration is free and numerous programs are offered at no charge. However, field trips range in price depending on the length of the program and if meals are provided. Tours take guests to Two Buttes Reservoir, John Martin Reservoir, Willow Creek, Camp Amache, and Picture and Carrizo Canyons, south of Lamar – make sure to register for tours as they can fill up fast.
The Event Kicks Off at 4 PM on Thursday, February 3rd at Lamar High School, 1900 S 11th Street Lamar, CO.
Keynote Speaker: Jonathon Reitz on the Lesser Prairie-Chicken
Jonathan Reitz is a Wildlife Biologist for Colorado Parks and Wildlife in Lamar, CO. He has been working on lesser prairie-chicken conservation since 2006. Jonathan helps manage, research, and conserve a long list of big game, small game, and threatened/endangered species in southeast Colorado.
About the Lesser Prairie-Chicken
The lesser prairie-chicken is an icon of Colorado's southeastern prairies. Due to a long list of environmental and anthropogenic factors, they nearly become extirpated in extreme southeast Colorado and southwestern Kansas, in an area that was considered one of the species' core areas.
In an effort to recover the species on and around the Comanche and Cimarron National Grasslands, Colorado Parks and Wildlife, Kansas Wildlife Parks and Tourism, and Kansas State University partnered up and embarked on an unprecedented project for lesser prairie-chickens. Over the course of four years, a small army of biologists, wildlife technicians, and graduate students caught and translocated over 400 lesser-prairie chickens to the US Forest Service Grasslands.
In many ways, this challenging project was the first of its kind. Biologists had no idea whether or not the bird's own instincts and behaviors would get in the way of success. Come to the festival to learn more from Johnathan Reitz!