Hemmings Motor News Great Race
July 1 @ 11:00 am

-

3:00 pm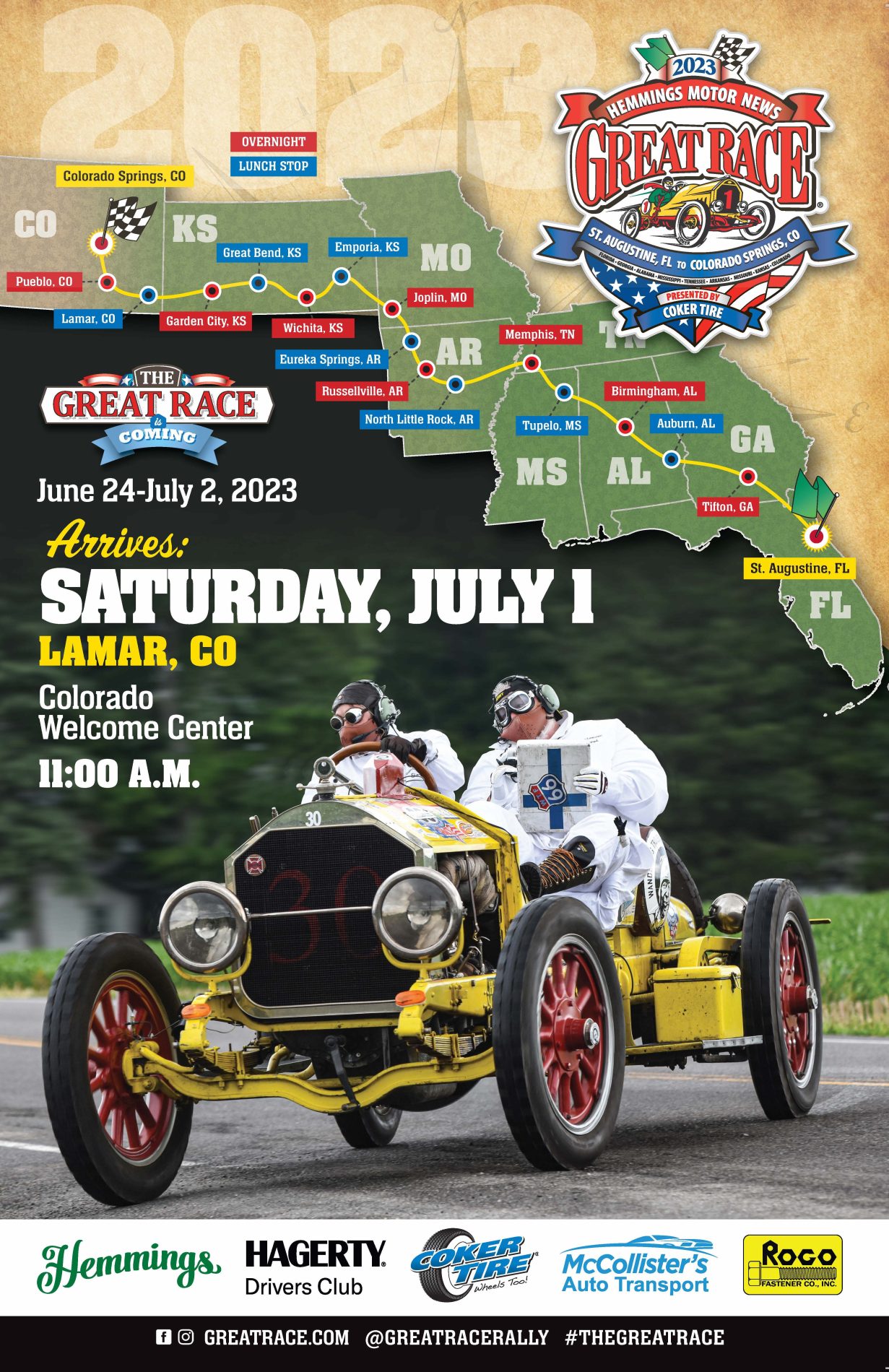 📆 Save the Date: 2023 Great Race Lunch Stop in Lamar, Colo.!
🚗 Get ready for an extraordinary event coming to Lamar, Colo.! We're thrilled to announce that Lamar will be hosting a special lunch stop during the highly anticipated 2023 Hemmings Motor News Great Race presented by Coker Tire. Mark your calendars for Saturday, July 1, and join us for an unforgettable experience!
🏁 The Great Race is renowned as the world's premier old car rally, bringing together 120 of the most exquisite antique automobiles from around the globe. Prepare to be amazed as these vintage gems roll into town, transforming Lamar into a haven for automotive enthusiasts. The first car is expected to arrive at the Colorado Welcome Center starting at 11:15 a.m.
🌎 This epic nine-day, 2,300-mile adventure will take participants through 19 captivating cities spanning Florida, Georgia, Alabama, Mississippi, Tennessee, Arkansas, Missouri, Kansas, and finally, Colorado Springs. Teams and cars from Japan, England, Australia, Germany, Canada, and every corner of the United States will converge in Florida before embarking on this thrilling journey. With vehicles dating back as far as 1916, the Great Race is an international spectacle like no other.
⏰ The Great Race isn't just about speed; it's a captivating time/speed/distance rally. Each day, the teams receive precise instructions, outlining every move down to the second. Along the way, they are scored at secret checkpoints, where one second is added for every second they deviate from the designated time. It's a test of precision and accuracy, with the lowest score ultimately claiming victory.
🚙 Witness the stunning vintage automobiles as they start their leg of the race, each car ideally departing one minute apart. As the participants strive to reach the finish line, their journey becomes a test of endurance, both for the drivers and their beloved classic vehicles.
👀 Don't miss out on this incredible opportunity! The Great Race invites everyone to join in on the excitement. Each stop along the way is free to the public, allowing spectators to interact with the participants and explore the captivating cars for several hours. Kids will even have the chance to climb into these remarkable vehicles for a firsthand experience.
🏆 The Great Race is open to cars built in 1974 and earlier, with most entries manufactured before World War II. Last year's champion drove a 1932 Ford from Rhode Island to North Dakota, and this year's winners will once again claim their share of the $150,000 total purse, with $50,000 going to the victors.
🚗 Be prepared to witness automotive history in action. Among the impressive lineup of vehicles, you'll find the oldest cars scheduled for the 2023 Great Race, including a 1916 Hudson Pikes Peak Hillclimber, a 1916 Chevrolet, and a 1917 American LaFrance.
🌟 Over the decades, the Great Race has captivated cities of all sizes, creating instant festivals wherever it goes. In fact, last year's event drew in over 10,000 spectators at several overnight stops, with a grand total of 250,000 people witnessing the Great Race in all its glory.
🎥 The Great Race traces its roots back to 1983 when it was founded by Tom McRae. The event takes its name from the 1965 movie, "The Great Race," starring Tony Curtis, Jack Lemmon, Natalie Wood, and Peter Falk. This comedy classic was inspired by the real-life 1908 automobile race from New York to Paris. In 2004, Tony Curtis himself participated in the Great Race, riding in his iconic car from the film